Free download
5.3.3, Nov 03, 2020
Build: 5000 Filename: Outlook4GmailSetup.exe Size: 10,3 MB SHA1 checksum: F5C08B1A76AB52016E317D1D526212B3965F1480
SHA256 checksum: E43A4DC9EB4C5754C258631D848F8C467EC2BF7F0FD82668390D4D7535A0EF11
Requirements
Microsoft Outlook 2003/2007/2010/2013/2016/2019; 32 and 64-bit versions; compatible with Office 365.
Windows 2000, XP, Vista, 7, 8, 10 (both x64 and x86).
At least a 1GHz processor, 256 MB RAM.
10MB of free disc space at system drive.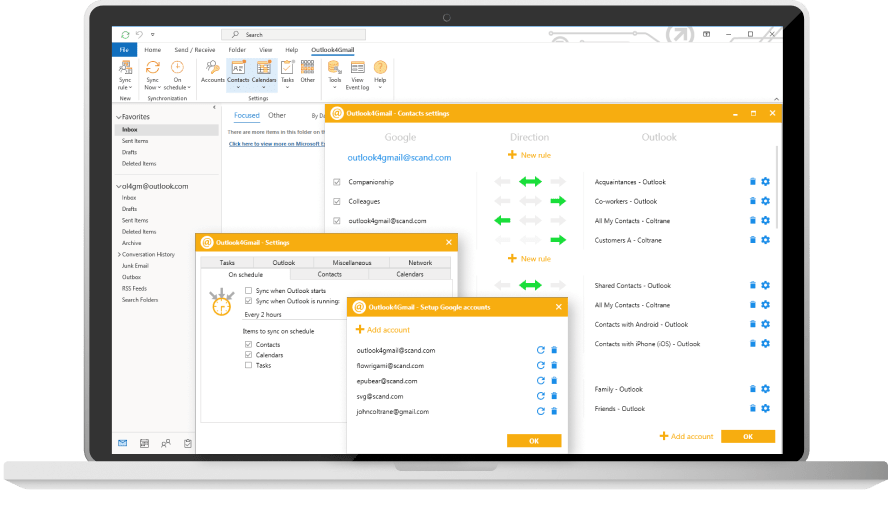 Key Release Notes
Synchronization of Google Contact Group/Label with selected Outlook folder and vice versa.
Task synchronization option.
Recurring Outlook Tasks with Google Task list syncing.
Support of multiple Google accounts, synchronization supports 'one-to-many', 'many-to-one' and 'many-to-many' syncing relationships.
Implemented customization of synchronization rules for any Google account or any Outlook folder.
Ability to skip synchronization of past events (older than 1 month, older than 1 year and etc.).
Internet calendar support.
Added contacts synchronization from multiple Outlook folders with a Google account.
Two-way Outlook contact categories sync with Google groups.
Full support of all contacts' phone number types.
Contact's picture sync.
Multilingual user interface (English, German, French and Russian).
Support of multiple Outlook Data Files (*.pst).
Microsoft Exchange Server support.
Please, check out the full list of release notes.
Technical support and one year free update is available only for commercial version of Outlook4Gmail. See Outlook4Gmail license agreement. The free version that mostly allows Contact syncing and supports basic filter settings goes without additional support from the development team. Note! The commercial version of Outlook4Gmail allows adding Google calendars to Outlook easily and seamlessly. Free and Full version features comparison
Our customers are our top priority, and we strive for 100% satisfaction with our software. If you have any questions or concerns, don't hesitate to drop us a line to outlook4gmail@scand.com