Outlook4Gmail is an add-in, so there is no real start or exit. It loads when Outlook starts and will create its own ribbon with buttons or menu item and a toolbar (for Outlook 2007 or earlier versions).
Free Outlook4Gmail version only syncs the contacts. If you want to sync calendars you have to purchase the license or try our free 7-day trial version, full featured one.
How to Sync my Contacts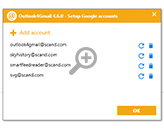 Note that, before you try to sync contacts, your Google account(s) should be authorized, i.e. added to the Account Section.
In case you have some issues with account authorization, please, try to perform Google authorization manually. Read more here.
If you have changed the password to your Google account you will get a notification that the program is unable to sync your accounts. You have to refresh your account by clicking the button with 360 arrow on it in the Account Section. Read more here.
The free version allows you to add as many Google accounts as you want but only one at a time will be synced, i.e you put one check mark for one account to sync.

The full version of Outlook4Gmail gives you more freedom and you may synchronize as many Google accounts as you want simultaneously. There is no limit on the amount of synchronizations, so you literally put many checkmarks in the appropriate checkboxes and apply more than one sync rule.
It's easy to sync the contacts. There are 3 types of synchronization:
 You import Google contacts into Outlook. Google contacts remain the same and don't sync with the Outlook ones
 You sync the two sources Google and Outlook. Both of them are updated
 You import Outlook contacts into Google. Outlook contacts remain the same and don't with the Google ones
We strongly recommend to backup your contacts before you try to sync Google contacts with Outlook. The backup function is performed in Tools section by clicking on Export. Thus, your Outlook contacts will be saved on your computer.
If you have contacts of the same person added to your Outlook and Google accounts but their value in both accounts is different, the priority during the two-way sync process belongs to the contact that was recently modified. So to say Outlook4Gmail sees your contact's profile activity and prioritize automatically the most recent one. So if your
Google contact is a priority, its information will overwrite the duplicated Outlook one. If you have a Google account on Android or iOS device, contacts and calendars sync
is possible but you have to read more on how to do it, please click here (Android) or here (iOS).
Filters for Contacts
The two available filters for contacts sync are: by email or by phone number. Please, make sure your contacts information features at least one of the sync options. Read more here.

If you have more than one phone number for one Google contact and they all are 'labeled' differently (e.g. Mobile (Operator #1), Mobile (Operator #2), we advise you to use Bypass Phone Type option. Thus, additional information about your contacts will be imported into Outlook database though the labels will not
be saved. There is more information on that issue in our F.A.Q. section.

More sync filters are available in the section Other

Checkmark applied to It is allowed to delete contacts means that if you delete a contact in Outlook it will vanish from Google and vice versa.
Checkbox Show a prompt message to confirm contacts deletion should be filled out if you want to receive confirmation on actions related to deletion.
Option Check on duplicates before synchronization is very useful in case you have contacts or appointments/events duplicates in your Outlook and Google accounts and you do not want them multiply. We advise checking every time before you perform synchronization, thus you will easily track all
duplicates. To read more click here. Read about appointments/events duplicates here.
File As attribute helps you to give additional labeling to your contacts. Do apply the check mark if you want this option to be on.

For additional settings go to Miscellaneous and Network tabs.

As you see the following filters could be applied: backup confirmation on data synchronization, check for updates (this one we strongly recommend), scanning and language settings

If you are using Outlook4Gmail free version, Calendar option is not active. To enable it, please, purchase the key.
Additional sync options except SYNC NOW are available only for full version of Outlook4Gmail.
Once you purchase the key, you will be able to set up the settings for synchronization:

Sync when Outlook starts
Sync when Outlook is running (available time intervals are: 30 min, 1 hour, 2, 4, 8, 12 or 24 hours)
How to Sync my Calendars
Calendar settings are active only for the users who purchased the license and activated Outlook4Gmail full version.
Calendar synchronization resembles the one we already performed for the contacts.
Note that, before you try to sync calendars, your Google account(s) should be authorized, i.e. added to the Account Section.

We can define multiple sync rules for one account. We can add two or more Google calendars and start synchronization with any of Outlook calendars. As you see, again you have arrows defining the way you would like calendars to be synced.
We strongly recommend to backup your calendars before you try to export Outlook calendar to Google. The backup function is performed in Tools section by clicking on Export. Thus, your Outlook appointments will be saved on your computer and you will also get an opportunity to edit Google calendar in Outlook.
Additional options
Tools tab in Outlook4Gmail interface helps to import and export your contacts and calendars from Outlook to computer and vice versa.

Option Fix bad formatted birthdays which is also located in the section Tools helps to fix potential mistakes in contacts information (e.g. contact's year of birth is missing).
View event log option helps to get a track of all your actions while working with Outlook4Gmail. Date, time and a brief description of your moves are provided.
Help section reflects the information on how to get feedback with the support team of Outlook4Gmail, write an email or be redirected to F.A.Q page.